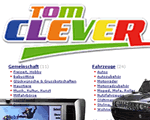 There's a new classifieds platform here in Austria. The nice thing about Tom Clever is, that it is for free. There are no fees whatsoever involved. One can get overwhelmed by the sheer amount of categories, but the structure makes sense.
The eight categories (communities, hobbies, vehicles, services, contact, real estates, courses and goods of all kind) should be able to hold everything someone would like to sell or buy.
It started as an idea
Tom Clever started during a car ride. Going from Vienna to Bratislava takes time. Take four creative heads from Itellico, give them time and you might get something strange in return. Or something useful, like Tom Clever.
The basic idea behind Tom Clever: There's no working customer to customer platform in Vienna. They are either too complicated, too slow or too expensive. Tom Clever on the other hand is easy to use, very quick and free.
The interface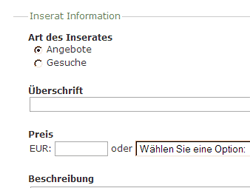 Interface
The interface is very straight forward. After entering whether you want to make an offer or search for something you can enter a heading for your announcement. Add a price (or best offer, for free, for exchange, contact), a description and a photo and you are almost set.
What's missing: Your email-address and a generated code. The email-address enables you to change your offer later on, it serves as your user name. And the code is here to inhibit spam.