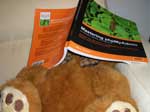 Most hosting plans including MySQL also include phpMyAdmin as a front end. A lot of open source php applications depend upon MySQL as a database backend. Knowing more about phpMyAdmin could thus improve a webmasters experience.
Packt publishing was as nice as sending me a copy of their Mastering phpMyAdmin book for review. I hope you enjoy this review as much as I did reading it!
Conclusion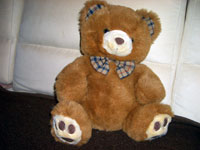 Bear
In case you are considering using MySQL and like web-interfaces, you probably will come across phpMyAdmin sooner or later. While it should be possible to use it right away without further advice, this book can make you use it to its full level.
What I really like about this book is the way it was written. On the one hand, it is easy to understand and doesn't make things complicated. On the other hand, it goes into all the details you could possible want to know while using this web-frontend to MySQL.
Poll
What is your favorite open-source database?
There are quite a few databases available for free. Which one of them do you like most?
Please log in to vote and see the poll results.