Seit vorgestern ist die endgültige Version 0.9.3-3 von phpWebSite verfügbar. Auf kiesler.at wurde sie noch nicht installiert -- vor allem aus Zeitgründen. Andererseits gibt's in der Version noch ein großes Hoppala.
Schwerwiegender Layoutbug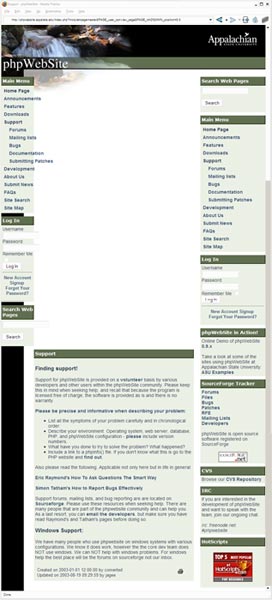 Das erste, was bei der neuen Version auffällt, ist das neue "boxed" Logo von phpWebSite. Es ist jetzt nicht mehr grell-magenta, wie das alte. Sondern in schönem Wald-Design, wie die Homepage von phpWebSite selbst.
Doch dann traute ich meinen Augen nicht. Die Appalachian University hat tatsächlich einen schwerwiegenden Layoutbug auf ihrer Homepage (siehe rechts!).
Der obere, mittlere Teil des Layouts bleibt komplett leer und fängt erst unterhalb der Seitennavigation an. Außerdem ist die linke Spalte nicht breit genug. Die Login-Eingabefelder ragen über den Spaltenrand hinaus, genauso einige Menüeinträge.
Ich kann mir echt nicht vorstellen, dass das noch niemandem aufgefallen ist. Immerhin ist die Version schon seit zwei Tagen erhältlich und stößt auf reges Interesse!
Neue Features
Die neuen Features sind überschaubar. In erster Linie will die Version eine "bugfix-release" sein. Die Features der stable-Release sind größtenteils schon auf kiesler.at implementiert -- sei es durch händische Patches, oder eben durch den RC1.
Changes Include:
Search revision which improves site wide search abilities
Improvements to photoalbum slideshow for modem and IE users
What's related On/Off patch (Thanks Shaun Murray)
Post processing patch for phatform (Thanks Rob Willett)
Remember Me login patch (Thanks Michael Filio)
Added debug theme (Thanks Mike Noyes)
Added W3C Core Styles (Thanks Wendall Cada)
BBcode Parsing ability (Thanks Don Seiler)
Schade: Der Mod-Rewrite Hack fehlt!
Fazit
Hoffentlich kommt Version 0.9.4 bald...