If you think about a content management system, you usually want to have a collection of text documents within it. A collection of your content. That's what I use Article Manager for in phpWebSite.
Entering Content
After you've installed Article Manager, you'll probably want to put some content in also. That's very easy. Press the Article Manager Button in Control Panel - Site Content.
The Manager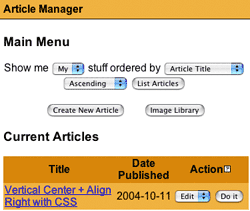 Main Menu
This is the heart of the Article Manager. You can browse in your articles here as well as create new ones. Everything you see here or don't see here depends on the rights you have. You site deity can define them in the user manager.
Personally, I prefer to have a "Author Group". There I define all the rights my authors have or don't have. Like creating documents, editing their own articles and so on.
Creating an new article now is only a click away. Why don't we give it a try?
A new article
You should now see an empty article. Every article needs a title as well as a summary. Both will be used in archive listings, search results and on your start page.
After entering both of them, you can start writing the actual content. Please feel free to use as many paragraphs as you like. After pressing "Save Section", you can start writing the next paragraph.
If you want to have a picture with your paragraph, choose a image file from your harddisk with "browse". Next, provide a short image description (will be the text browsers without image support see) and a link caption. The link caption will be written below you image.
You can also provide a link to another page -- be it within your site or offsite. Please bear in mind, that Article Manager puts a "http://" in front of your link. So if you want to link my site, don't enter "http://www.kiesler.at/". Instead, enter "www.kiesler.at". I've stumbled across this one quite often myself already.
Publishing your article

Waiting for approval
Usually, your article won't be visible on the start page right away. Article Manager supports workflow, which is a very nice feature of most content management systems. Instead, your article waits for approval of a deity.
As soon as you've saved your article, it will pop up in the deities "Approval" box. And the site maintainer will get a email notification as well.
After your article has been approved, it can be shown right at the front page.