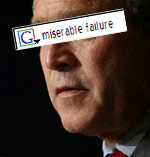 ...and by bombing I don't mean bombing Iraq. No, the term Google Bombing actually refers to something else, spamming Google by doing lots of links with a given anchor text.
In a recent post of the Google Blog, the major player of the search engine market itself defends this practice. It's reflecting the current opinion on the Internet and thus needs to be respected, they write in an article to be remembered.
What is Google Bombing?
K. H. Grasser
Looking at the Wikipedia, a Google bomb is a kind of
dishonestly modifying HTML pages
to increase the change of them being placed close to the beginning of search engine results. One of the more current examples would be searching for
miserable failure
. Like already commented by a couple of sites, this search leads to the personal site of
George W Bush
.
One of the first Google Bombs was actually directed towards Microsoft. The term
More evil than Satan
lead to Mr. Gates company. Austrias students on the other hands had a lot of fun with the term "Völlige Inkompetenz". It led to our minister of finance, Karl Heinz Grasser. See the
Wikipedia
for additional Bombs.
Googles answer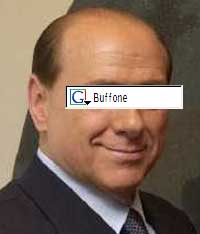 S. Berlusconi
In their
Blog entry
from September, 9 Google itself played Google Bombing down. Apparently Google honors the text that links to site a lot in their ranking algorithm. That way, a lot of links to a certain site with the same text will bring this site on top of a search of that term.
Googles comment on this practice:
"Pranks like this may be distracting to some, but they don't affect the overall quality of our search service, whose objectivity, as always, remains the core of our mission"
In an additional comment in Wikipedia, its authors comment goes a similar direction:
"Ironically, Google bombs often end their life by being too popular or well known, thereby attaining a mention in well regarded web journals and knocking the bomb off the top spot. It is sometimes commented that Google bombing need not be countered because of this self-disassembly."