Building Websites with Mambo
is already the third book I'm reviewing from Packt Publishing. Mambo is the CMS that has won
three awards
in 2005 alone: Best Open Source Solution twice and Best of Show once.
Should you decide to give Mambo a go you might be interesting in having a printed manual for it. Building Websites with Mambo could be just the thing for you.
What's in?
It's a hands-on guide, not a concept guide. You learn how to get the most out of CMS. Building Websites with Mambo is oriented on people which never used a CMS before. It covers all the basic topics and gives you a ride through all the content possibilities of Mambo, too.

The author Hagen Graf actually wrote the book during a tour, apparently through france. And, like the Typo3 book I reviewed earlier, is a translation from german. The translation got very nice, as Mr. Graf also noted in his introduction.
Table of contents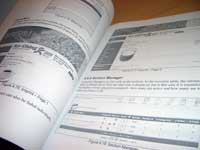 book
The book has 8 chapters which are used to divide 230 pages. Let's have a closer look at them.
chapter 1
deals with all kind of Mambo concepts. Be it the frontend (=what your visitors see) and backend (=where you manage the contents), templates, history, access-rights, etc.
chapter 2
takes care about the installation. The 12 page are considerably less than the
50 pages install-guide
of Typo3. One of the main reasons why I prefer Mambo to Typo3
is
its ease of use, so this figures.
chapter 3
introduces you to all the parts on your homepage you see after you've installed it. I really think that more books should have a chapter like this one. It makes life so much more easier.
chapter 4
shows you means of customizing Mambo. This includes
the media manager
the Template manager
the static content manager
the Banner manager
and a lot more. See it as a mixed administrator / editors guide.
chapter 5
seamlessly follows after chapter 4 by continuing with describing various "useful extensions". You will learn about the Simpleboard forum module here as well as about the Event Mambot, the Zoom Media Gallery, the E-Cards module and a lot more.
chapter 6
is about the looks. There's a one-page introduction to HTML, another page about CSS and 10 additional pages about templates. Templates help you defining a structure where your content can be in. Think about them as the forms you fill in your taxes, except they are of course a lot less painful.
chapter 7
tells you how to create your own extension,
chapter 8
, actually the appendix, gives you some additional details about operating-system dependent parts of Mambo. There are also a bit more details on the CSS in the templates.