Nicht genug, dass Alexa bezüglich des Screenshots meiner Seite total falsch liegt. Siehe rechts, meine Site hat mit Woody genau gar nix zu tun!

Klickt man auf "other Sites that link to this site" gähnt mir ein leerer Bildschirm entgegen. Obwohl Alexa behauptet, 2 Sites linken auf meine.

So cool die Funktionalität von Alexa sein mag. Mit meiner Site harmoniert sie wohl leider nicht!
www.kiesler.at'>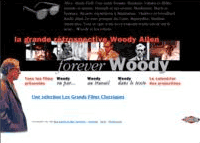 kiesler.at ?