The core competence of phpWebSite is managing content. That's why it's called a content management system. There are a couple of guides on how to install phpWS technically and how to work with modules.
Then, there's the actual content. I couldn't find a common practice guide on how to write content for phpWebSite. So I did one on my own. Enjoy!
Headings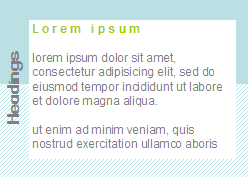 headings
All good and well, but what about the headings? Actually, that's where Article Manager comes in. My current recommendation: Use pages (Checkbox "Start on new page?") for major headings and the section titles within pages for minor headings.
If you need more levels for your content, please reconsider it. You can write as much articles as you want, it might be useful to split up.
Then, there are categories, please have a look at the fatcat module. People won't read content, if it's to lengthy!
Benefits of this approach
You won't bore your visitors. Bored visitors might not want to come again, and your page probably is about visits?
Also, by choosing this approach you'll get a nifty list of the most important topics of an article below it: The page chooser.