The core competence of phpWebSite is managing content. That's why it's called a content management system. There are a couple of guides on how to install phpWS technically and how to work with modules.
Then, there's the actual content. I couldn't find a common practice guide on how to write content for phpWebSite. So I did one on my own. Enjoy!
Images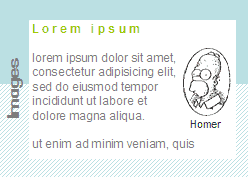 Images
Like for headings, I'd recommend the use of Article Managers facilities for images. The reasons are easy to understand, once you know them.
First of all, images are part of your site layout. We already talked about getting a consistent layout before, so it should be pretty obvious we're trying to get this right.
Secondly, the guided Article Manager takes care of image captions (neat!) and the alt tag. You can even add a link to a bigger image (to the photoalbum?) quite easily
Thirdly, images aren't only about alignment (left / right / baseline / whatever). But they are about borders as well.
While it was common practice to include a "border=0" to all images, border's aren't considered as evil anymore. In fact, they can make your layout nicer
Fourth reason, and I guess those four should be enough: Using the vanilla img-tag is saying goodbye to advanced techniques like css shadows for images.
Consistent Images
There's one thing to take care about before you upload your image to Article Manager. Please make sure, you've resized them all to the same width, as image size heavily affects your total layout.
I usually stick to a width of 250 pixels. That's not too small and still fits nicely on handhelds.
I also like to do a Auto Color on the image and a Save to Web as .jpg, where I try to keep the image below 10k. You shouldn't overuse images either, as they draw away the attention from the content.
Then, if you don't have interesting content to offer...