Today I broke my foot at my every wednesday California Workout. It happend fast, it made a cracking noise, it hurt a bit. On the other hand, it didn't hurt as much as rendering me unable to finish my Workout.
The accident
Then, we did some rather nasty jumping on and off the step. That's where it happend. A loud "CRACK!" and my foot needed a timeout. Heidi saw it and quickly came to me to help me.
I said that everything was alright and went to put my foot under cold water, like Heidi told me. After a while I came back and continued the workout until the very end. Without the jumping.
After the workout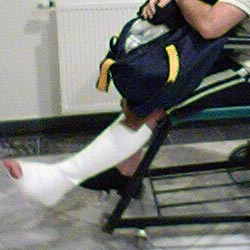 broken foot
Somehow, my foot was rather swollen. Thats unusual. That never happend before. So I drove right to the hospital in Korneuburg. After x-ray it was clear: The foot is broken. I got a gypsum with a split. And I may not step on it.
The doctor, the nurses, all of the people I met there were incredible nice. My fear of injections is legendary. Still, calm words of the nurses made the injection actually quite enjoyable. I have to inject myself every day now to prevent trombosis.
I of course called my father after realizing that things were more serious than I thought first. He came and helped me quite a bit. After a visit to the pharmacist we drove to my home. The second or third step -- still on the street -- was fatal. I'm not used to crutches so my back nearly kissed the street. While I could avoid that, I did a quick step on the asphalt. So: Back to the hospital as the gypsum didn't give me any more support.